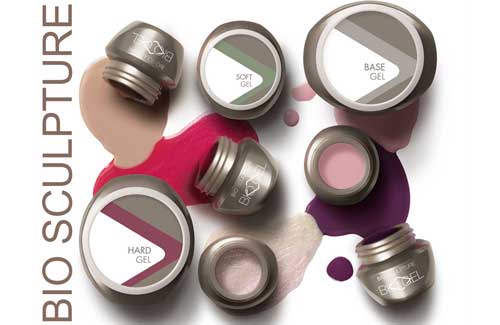 Bio Sculpture Gel Nails give you a natural overlay, enhancing your nails with a fabulous range of colours and finishes. And that finish lasts, typically clients return after 3-4 weeks for a re-application, because the nails have grown, not because the gels have been damaged.
Bio Sculpture was developed to not only deliver beautiful nails, but also healthy nails, and was developed from the ground up with this in mind. The manufacturer has its head office in South Africa, and takes pride in the quality of both their products, but also the Quality Management Systems the operate with.
Bio Sculpture Gel is the original, professional, soak off gel in a jar, a product that comes in a range of treatment gels, from hard to soft to suit all nail types and applications, so leaves your nails undamaged, yet can also be used to extend short nails as well.
Bio Sculpture Nails
Using the very best in gel nail enhancements, Bio Sculpture creates a flexible, thin, strong, natural looking coating on the nails. Bio Sculpture Gel Nails typically last for three weeks on the fingers, and 6-8 weeks on the toes.

We have a wide range of colours and finishes including gloss, matte, chrome, glitters and shimmers.


| | | |
| --- | --- | --- |
| Overlays | | £26 |
| Extensions | | £38 |
| Nail Fix | | £5 |
| Soak Off | (free when re-applying) | £10 |